Twins at Royals: The Minnesota Twins are slated to take on the Kansas City Royals on Thursday at 8:10 p.m. EST to start a four-game series. 
The teams played a three-game series over the weekend, which the Royals took 2-1 after winning Friday and Sunday's matchups. The Twins edged in a win on Saturday, with a final of 6-5. Kansas City took their wins with much bigger leads, coming out on top Friday 8-3 and 6-3 Sunday.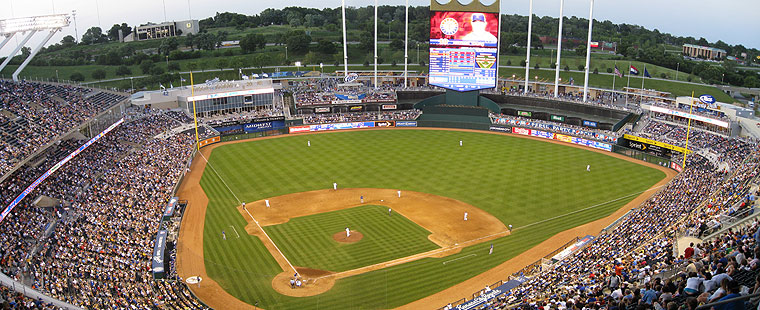 In the standings, the Twins find themselves at the bottom of the pile in the AL Central, while the Royals are currently situated in the middle of the pack.
The game will take place at the Royals' ballpark, and they are 14-13 at home. The Twins will carry a losing record in away games going 10-15. 
Twins at Royals: The Matchup
Kansas City did not play Wednesday after finishing up a 2-game series against the Pirates on Tuesday, which resulted in the addition of two wins to the Royals record. Minnesota faced the Baltimore Orioles on Wednesday and may not be as rested as the Royals.
The Twins are also without a majority of their outfielders, as they all sustained injuries. Rob Refsnyder ended up as a late scratch ahead of the game on Tuesday. Mitch Garver received an unfortunate hit and was forced to leave the game against the Orioles as well. 
This caused Willians Astudillo to move to catcher and Trevor Larnach to play RF. Unfortunately for the Twins, Larnach is currently struggling with a foot injury. The Twins will have to adjust their playing style to accommodate these movements ahead of their meeting with the Royals.
Looking at the overall future prediction for both teams' chances at the World Series, FanDuel puts the Royals at +8000 and the Twins at +7000. The Royals have improved their odds, being +11000 in preseason whereas the Twins have decreased their chances, originally being +1800.
The Royals are statistically a stronger team with a winning percentage of .509 compared to the Twins at .407.
Kansas City finds themselves in a much better position, with an overall record of 27-26 to the Twins 22-32. The Royals are barely holding onto a winning record, but they are still in the positive while the Twins are in a hole, having lost ten more games than they have won.
Twins at Royals: The Pick
In my opinion, the Kansas City Royals are the stronger team. They have the ability to outmatch the Minnesota Twins for this game, and possibly come out on top for the entire 4-game series they are facing this upcoming weekend. 
The Twins have players missing, injured, and tired from their meeting with the Baltimore Orioles heading into the matchup. Even if they are able to overcome all of this, they are facing a well-rested Royals team riding a win.
Amber Williams is a writer for the Sports 2.0 Network cover a variety of sports including hockey, basketball, football, and baseball