The St. Louis Cardinals host the Colorado Rockies on Friday night at Busch Stadium to begin a weekend series. There are some major storylines with this matchup, and it could lead to a fun weekend by the Arch.
Colorado comes into St. Louis with a little bit of momentum after winning their previous two games against the San Francisco Giants. The Rockies are still just 12-19 on the year, and they are not expected to be a playoff contender.
The St. Louis Cardinals have climbed into first place in the National League Central, and they are a popular pick to win the division. St. Louis has gone 18-14 to begin the year, but the Cardinals have lost two games in a row.
The St. Louis Cardinals are big favorites at -203 in the first game of the series. The over/under for Game 1 is set at 7.0 runs.
Rockies at Cardinals Preview and Pick: Gomber Goes Against Cardinal
Austin Gomber takes the mound for the Rockies on Friday night, and he is no stranger to pitching at Busch Stadium. This will be the first appearance for Gomber as an opponent as he was traded to Colorado as part of the Nolan Arenado deal.
Gomber has gone just 2-3 with a 5.90 ERA to begin the season, but he does have some talent to turn things around. The Rockies have a struggling bullpen as well, and getting 27 outs has been a challenge for this team all season long.
Second baseman Ryan McMahon leads the Rockies with eight home runs and 21 RBIs, and this team does have the potential to score some runs. Some of the big bats are still struggling to get going, but there is talent there to do some damage.
Colorado has always been a much better offensive team at Coors Field, but the Rockies hope that they find some hitting on Friday night.
Rockies at Cardinals Preview and Pick: Cardinals Offense Coming Alive
After a slow start to the 2021 season, the St. Louis Cardinals are starting to find their rhythm at the plate. St. Louis is now tied for 8th in the league with 145 runs scored, and this team is capable of breaking out at any time.
Nolan Arenado leads the Cardinals with 22 RBIs on the year, and he will be looking to do some damage against his former team. Even though it became clear that the star third baseman wanted out of Colorado, he still feels mistreated by the Rockies.
The biggest advantage that the Cardinals have in this game is that Jack Flaherty will be on the mound to begin the series. Flaherty has gone 5-0 to begin the season, and he continues to prove that he is one of the top pitchers in the National League.
Rockies at Cardinals Preview and Pick: St. Louis Slugs Way to Win
St. Louis believes it won the Nolan Arenado trade in a big way, but Austin Gomber will look to make them change their minds on Friday night. Gomber does have some talent, but he is also facing a lineup that has plenty of power in it.
Colorado just doesn't have a ton of thunder without Arenado on the field, and this team is going to struggle to score all season long. The Rockies will find a way to plate some runs on Friday night, but Flaherty is going to control this one throughout.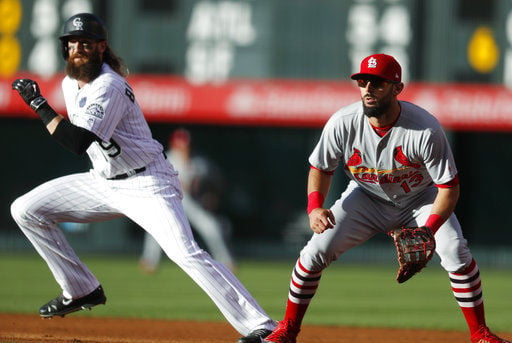 Nolan Arenado will come away with some big hits against his former team, and the Cardinals will chase Gomber from the game early.
Bet the St. Louis Cardinals -1.5 on Friday night and also take the over on runs scored. This is going to be a slugfest that is won by the home team.
Final Score:
Cardinals 10
Rockies 4
---
Join our Discord
to leave a question or comment regarding this article. We have sports fans talking betting all day — every day! JOIN THE DISCORD NOW AND QUALIFY FOR PRIZES & BETTING SWAG!
---