The first game of the weekend is the battle of the Bays. Tom Brady vs. Aaron Rodgers. Buccaneers vs. Packers. Let's get rolling with this NFC Championship betting preview.
I urge you to take a look at a piece I published earlier this week, breaking down the offensive and defensive line matchups, along with receivers vs. corners. There's some great numbers in there that tell a bigger story about how this game may transpire.
Read: Matchups that Might Impact the NFC Championship Game
I'll pull some analysis from that piece, as it helped me get a better gauge on how these teams match up.
Additional game previews, props and picks will be shared throughout the week on Twitter, so make sure you're following, @griffybets. Let's get to it!
Tampa Bay Buccaneers at Green Bay Packers
Sunday, 3:05 PM, FOX
Line: Packers -3.5
Points: 51.5
Early forecast: 28 degrees, snow flurries
#5 Tampa Bay (13-5 overall), (10-8 ATS)
#1 Green Bay (14-3 overall), (11-6 ATS)
Grades come from PFF, and DVOA rankings come from Football Outsiders.
Tampa Bay Passing Offense
Passing grade (2) vs. Packers Pass Coverage grade (3)
Passing DVOA (5) vs. Packers Pass Defense DVOA (15)
Net difference: +11
Tampa Bay Rushing Offense
Running grade (11) vs. Packers Rush Defense grade (18)
Rushing DVOA (10) vs. Packers Rush Defense DVOA (18)
Net difference: +15
Green Bay Passing Offense
Passing grade (1) vs. Bucs Pass coverage grade (4)
Passing DVOA (1) vs. Bucs Pass Defense DVOA (5)
Net difference: +7
Green Bay Rushing Offense
Running grade (3) vs. Bucs Rush defense grade (11)
Rushing DVOA (5) vs. Bucs Rush Defense DVOA (1)
Net difference: +4
NFC Championship Betting Preview: Thoughts on the Game
These two teams are incredibly even-matched and I'm excited to take it in. When thinking about this game, I expect to see the offenses rise above, as two of the best passing offenses in the NFL. 
Both defensive units have their share of strengths. The Bucs are a solid unit throughout, one of the top defenses this year, but I find that to be offset because of just how elite the Green Bay offense has been all year.
The Packers defensive strengths, their pass coverage and pass rush, match up well with the Bucs offensive strengths, meaning we may be seeing more Leonard Fournette and Ronald Jones.
If you've been watching the Buccaneers play this postseason, you see how deep their passing attack is. Brady has been getting the ball to his weapons with ease behind a steady offensive line.
Za'Darius Smith is a key to this game. The man has 13.5 sacks this year, and if he can get Brady off his rhythm, it will change the course of this game.
I'm picking Green Bay in this one. At home, the best offense in the NFL, two of the best defensive backs in the league; it puts it over the edge for me.
Yes, Tampa Bay took them down 38-10 back in Week 6. Week 6 was a long time ago.
Rodgers has been lights-out all season and Davante Adams will have the advantage on whoever tries covering him.
Game pick: Packers -3.5, over 51.5
Player Props to Target: Bucs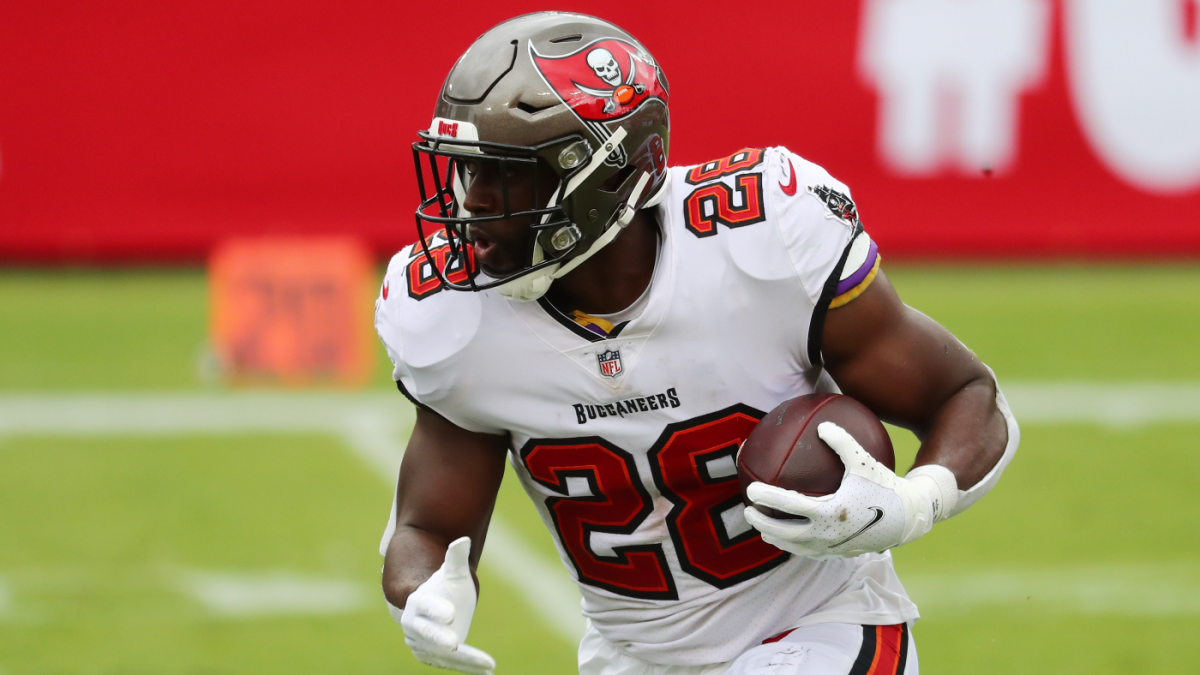 If you read my matchup breakdown that I plugged above (you really should), you'll know Green Bay has advantages in the trenches. Their pass rush trumps the Bucs pass blocking, their offensive line holds advantages in both the passing and run game.
The only area that favors Tampa is in their running game, further solidifying the direction we need to take for player props.
Add in that the Tampa Bay running game is the biggest disparity from the above metrics, and we're locked and loaded.
While we think of the Bucs as a passing team, and they are, passing on the fifth most percent of plays this year, they've had back-to-back strong rushing outputs.
Not only are they averaging 134.5 rushing yards per game in the playoffs, they did it against Washington and New Orleans, two of the best run defenses in the entire NFL.
Now, with a weaker Green Bay run defense, why should we expect that success to diminish?
What I love most about split backfields is the low lines that accompany both players. Ronald Jones missed the Wild Card round, but returned last week and played 21 snaps to Fournette's 49 snaps.
Fournette took 17 carries to Jones 13, indicating a pretty even split in rushing work.
As of this writing, these totals are significantly lower than I'd expect, and I see no reason that both can't hit.
Prop picks:
Leonard Fournette OVER 42.5 rushing yards & TD (+175)
Ronald Jones OVER 35.5 rushing yards
Player Props to Target: Packers
Davante Adams is so far and ahead the top target in this offense. Leading up to the Rams game last week, a lot was made by the presence of Jalen Ramsey, myself included.
While Ramsey wasn't lined up on Adams all day, he shadowed him for most of the game. Adams finished with nine catches for 66 yards and a touchdown. Rodgers is going to get the ball to his top playmaker.
Prop pick: Davante Adams OVER 87.5 receiving yards
I'm going to trust star receivers to have big games in big moments, and I believe Adams will be remembered as the reason Green Bay wins this game.
That will do it for my NFC Championship Game preview. Make sure you're following on Twitter, @griffybets, for my AFC preview. Thanks for reading, and good luck this weekend!
Recent work:
---
Join our Discord
to leave a question or comment regarding this article. We have sports fans talking betting all day — every day! JOIN THE DISCORD NOW AND QUALIFY FOR PRIZES & BETTING SWAG!
---