Team USA basketball men's team will tip-off their Olympic Games schedule with a game on Sunday versus France.
France defeated them back in the FIBA 2019 World Cup quarterfinals, and the United States will try to avenge that loss in this opener of the Group Stage from the Saitama Super Arena in Saitama, Japan at 8 AM ET.
What to Expect from the United States
The United States has won four straight Olympic Gold medals dating back to the 2004 Olympic Games in Athens. While some of the key players from those past four teams, such as LeBron James and Carmelo Anthony, won't be making the trip to Tokyo this Olympics, the United States has still been able to field a team that has a distinct advantage over any other country in the world.
The team will be led by now three-time Olympian Kevin Durant of the Brooklyn Nets, and he now becomes the fourth player in history to make three or more appearances in the Olympic games for the United States. The team will also feature one more former Olympian in 2016 Gold Medal team member Draymond Green of the Golden State Warriors.
Also making the commitment to the team and making the trip to Tokyo were four of the NBA's top 10 point-getters from the 2020–21 season with Bradley Beal (31.1 points per game), Damian Lillard (28.8), Zach Lavine (27.4), and Jayson Tatum (26.4).
Unfortunately for Beal, he went into Covid Protocols about a week ago and will be forced to miss the games because of it. He was not the only player to leave the team as Kevin Love left the team to help rehab a lingering injury from the NBA season. Zach Lavine also went into Covid Protocols but is expected to make the trip.
Rounding out the roster will be three players from the NBA Finals, Devin Booker, Jrue Holiday, and Khris Middleton, as well as NBA stars such as Bam Adebayo, Jerami Grant Keldon Johnson, and Javale McGee.
With all the injuries and the lack of chemistry that has developed for the team so far, things haven't been especially smooth for the US. The team kicked off exhibition play with two embarrassing consecutive losses to Nigeria and Australia in which players such as Jayson Tatum disappointed.
They would bounce back with three wins to close out the Exhibition, one of them being a strong win against a tough competitor in Spain.
While this team has dealt with injuries and has a ton of players coming off of a long and grueling NBA season, they are by far the best roster of players in the Olympics, and when at their best, they should be unstoppable.
What Does France Bring to the table?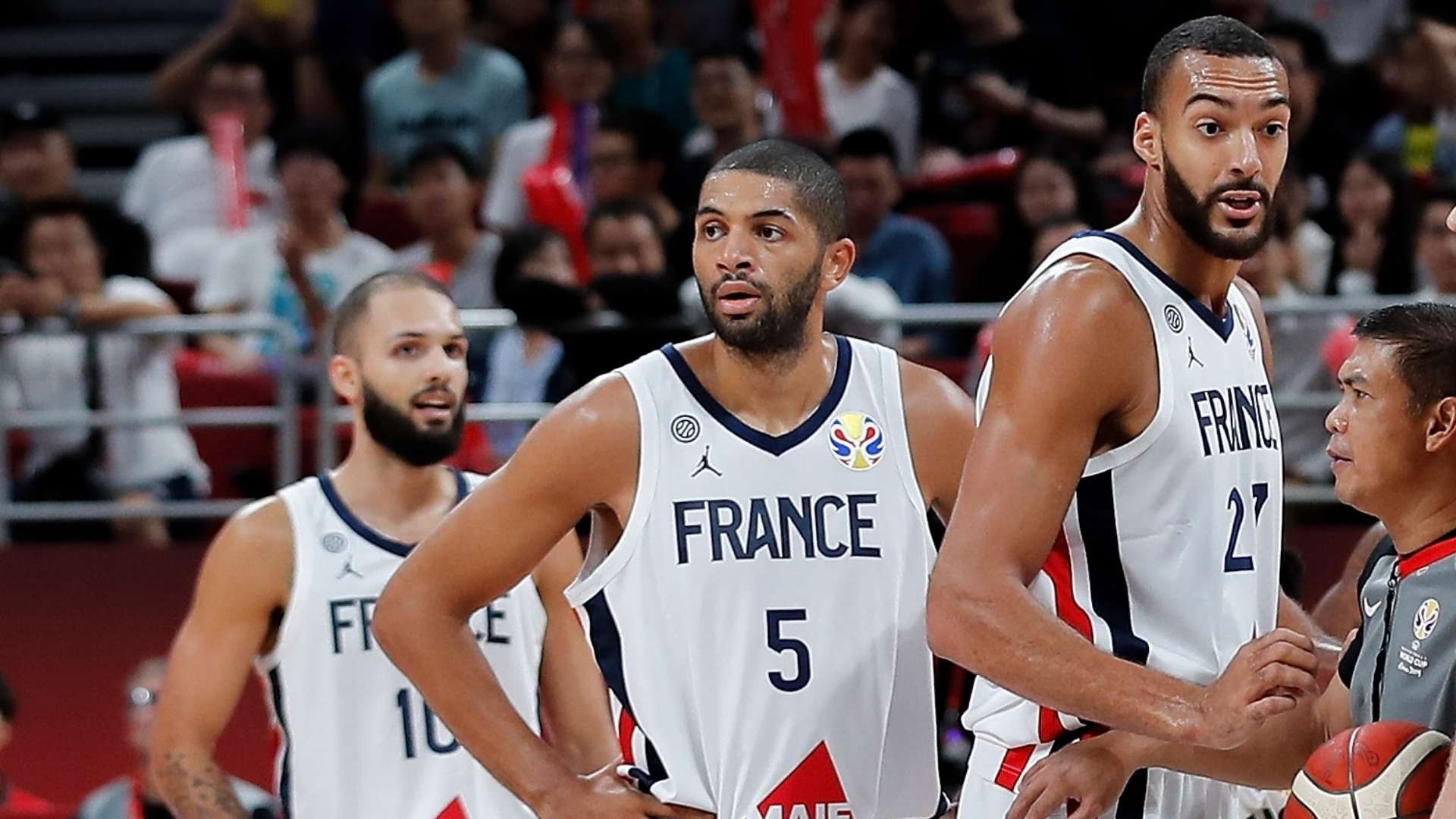 Sunday's game will be a battle of the back-to-back-to-back Olympic champs in the United States versus a France team that is still searching for their first experience of Olympic Gold.
France has finished with a silver medal twice in both 1948 and 2000, but that's the farthest they have ever reached, and those Silver medals are all they have to show in the trophy case.
However, this year's squad is headlined by the NBA's reigning Defensive Player of the Year Rudy Gobert. Alongside him are both Evan Fournier and Nic Batum — two players capable of putting up points in bunches.
During exhibitions in the past few weeks, the French have had a bit of a struggle, much like their American counterparts. They lost two games to a strong Spain team and also dropped a game to the home team, Japan.
They have a good shot of making it out of this group, but they will have to battle with Iran, who recently placed third in the Asian Basketball Cup, and a Czech Republic team that won the Olympic Qualifying Tournament.
Prediction
On paper, the United States is simply the better team, and they should have no issue disposing of this French team who does not have a lot of strong talent outside their NBA players.
Having Devin Booker, Jrue Holiday, and Khris Middleton returning from the NBA finals will also provide the United States team with a much-needed boost after an exhibition period that looked shaky at times.
The United States has all the motivation in the world to prove the doubters of this team wrong, and they have the motivation of trying to avenge their 2019 loss to France as well.
Most sportsbooks have Team USA listed as 12-point favorites, and that spread should be easily obtainable if the US has typical performances from their top scorers in Damian Lillard and Kevin Durant.
Final Pick: United States -12 (-110)
---
Join our Discord
to leave a question or comment regarding this article. We have sports fans talking betting all day — every day! JOIN THE DISCORD NOW AND QUALIFY FOR PRIZES & BETTING SWAG!
---