I'd argue this is annually the best weekend of football – it's time for the divisional round! Four games, eight great teams, let's get started. I present my Browns at Chiefs Betting Preview.
Additional game previews, props and picks will be shared throughout the week on Twitter, so make sure you're following, @griffybets. Let's get to it!
Cleveland Browns at Kansas City Chiefs
Sunday 3:05 PM, CBS
Line: Chiefs -10
Points: 57
#6 Cleveland (12-5 overall), (7-10 ATS)
#1 Kansas City (14-2 overall), (7-9 ATS)
Cleveland Passing Offense
Receiving grade (10) vs. Chiefs Pass Coverage grade (15)
Passing DVOA (10) vs. Chiefs Pass Defense DVOA (16)
Net difference: +11
Cleveland Rushing Offense
Running grade (7) vs. Chiefs Rush Defense grade (21)
Rushing DVOA (7) vs. Chiefs Rush Defense DVOA (31)
Net difference: +38
Kansas City Passing Offense
Receiving grade (4) vs. Browns Pass coverage grade (22)
Passing DVOA (2) vs. Browns Pass Defense DVOA (25)
Net difference: +41
Kansas City Rushing Offense
Running grade (15) vs. Browns Rush defense grade (18)
Rushing DVOA (13) vs. Browns Rush Defense DVOA (19)
Net difference: +9
Browns at Chiefs Betting Preview: Thoughts on the Game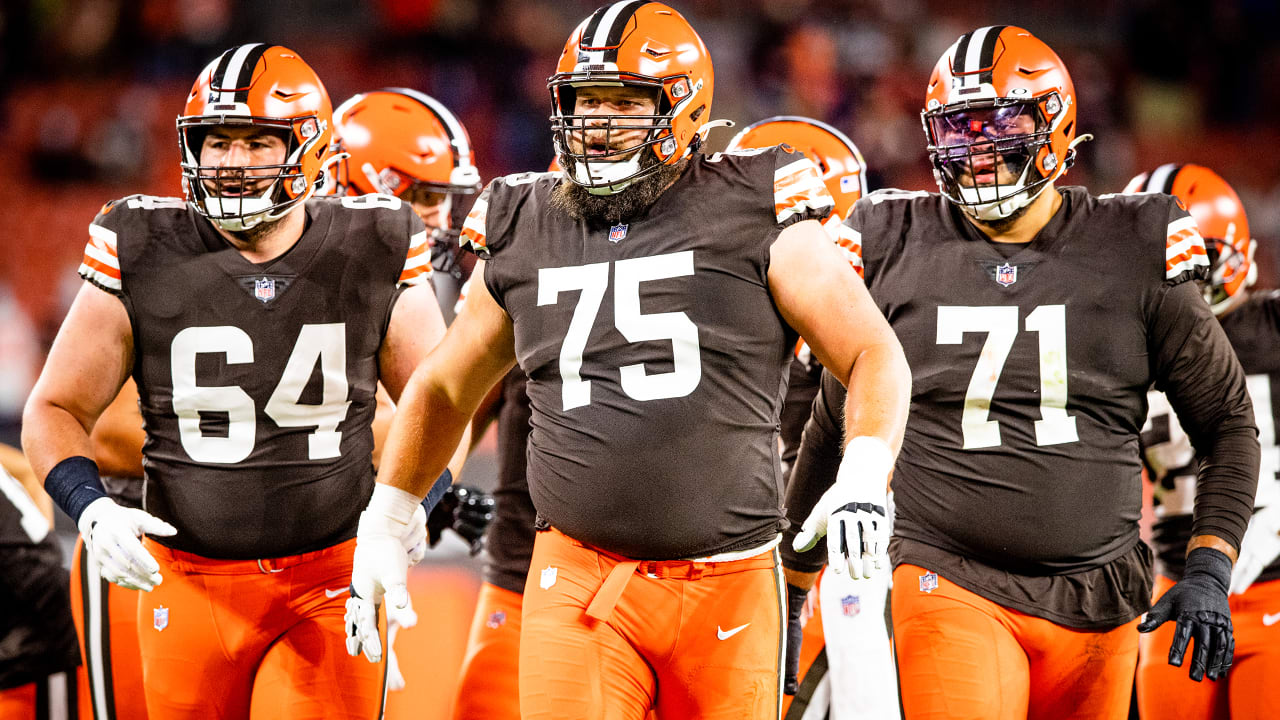 This is the juiciest matchup of the weekend, by far. The offensive advantages on both ends has me all-in on the over, even at a menacing 57 points.
Both defensive weaknesses play right into the others offensive strengths.
According to Warren Sharp, the Chiefs have played the easiest slate of run offenses in the league and still find themselves as one of the worst rush defenses in the league.
Now they're tasked with shutting down the dynamic duo of Nick Chubb and Kareem Hunt, running behind the number one offensive line in the NFL.
I'm surprised this spread is so high. We know how good Mahomes and this offense are, the Chiefs are one of the best teams in the NFL and the favorites to win the Super Bowl.
They also match up beautifully with the Browns biggest weakness – their secondary. I have no doubt Kansas City is scoring in bunches.
They've been coasting of late though: their last seven wins all being one-score games.
I have to believe Kansas City will turn it on for the playoffs and win this game. Yet, I find myself drawn to this strong Cleveland offense. I expect fireworks in this game, and I'm stacking up picks accordingly.
Game picks:
Browns +10
Over 57
6-pt teaser: Browns +16, Over 51
Half-unit sprinkles:
Browns 1Q moneyline (+200)
Browns moneyline (+400)
Player Props to Target: Browns
It's obvious that the run-game is the preferred target, but there's value in the passing game too. I'm getting aggressive in this game – I think there's room for everyone to cash.
Run-game props:
Nick Chubb OVER 69.5 rushing yards
Kareem Hunt OVER 32.5 rushing yards
It's a two-headed attack in Cleveland, which I love for prop values. The presence of the other brings these lines lower, and while you may consider a split backfield too uncertain to pick a prop – don't. The Browns have shown us time and time again that these two runners are going to get their touches.
Against a vulnerable Chiefs run-defense, I'm riding both.
Pass-game props:
Jarvis Landry OVER 58.5 receiving yards, Score TD (+150)
Baker Mayfield OVER 259.5 passing yards
Rashard Higgins OVER 46.5 receiving yards
Diversifying the Cleveland offense feels like a smart bet to me – if they somehow go down big early and are forced to abandon the run, we've got it covered.
Mayfield has had a great year. He's making smart decisions with the football (one interception since 10/25), and the run game opens up play-action for the offense.
Landry and Higgins are the clear top receivers and should have opportunities against a middling Kansas City secondary.
Player Props to Target: Chiefs
Keeping my Chiefs picks simple. Receivers are averaging nearly 200 yards of offense per game against this Browns defense, while tight ends come in at 57 yards per game. Both Chiefs pass-catchers highlighted here are in a class of their own.
Pass-game props:
Tyreek Hill OVER 81.5 receiving yards
Travis Kelce OVER 86.5 receiving yards
These are the two target leaders on this offense, by far. This isn't bold analysis, you know this.
I'm trusting these big-time players to make plays in a big game. Mahomes should be able to pass all over this defense, and it starts with Hill and Kelce.
So, that's that. This game has all the makings of a shootout and needless to say, I'm loaded up. Bring it on.
That will do it for this Divisional Round preview. Make sure you're following on Twitter, @griffybets, for my latest. Thanks for reading, and good luck this weekend!
Recent work:
---
Join our Discord
to leave a question or comment regarding this article. We have sports fans talking betting all day — every day! JOIN THE DISCORD NOW AND QUALIFY FOR PRIZES & BETTING SWAG!
---